B.J. Novak has always been known for his sharp writing. As one of the original writers on The Office, his all-time role as Ryan Howard needs no further introduction. After creating his own show The Premise, writing a New York Times best-selling children's book (The Book with No Pictures) and directing a handful of television episodes, Novak has provided the world with an abundance of his thoughts over the years. It's no different this time around with his latest outing, aside from the fact that it is also his feature film directorial debut. With Vengeance, Novak proves himself to be a simultaneous triple threat, not that anybody should have ever doubted him. Furthermore, his lofty talents feel even more elevated by just how grand the ambitions of this debut film are.
Vengeance tackles everything from true crime and online culture to conspiracy theories surrounding Six Flags and just what it is that makes Whataburger so unbelievably perfect. As Ben Manalowitz, Novak plays the role of just another journalist in New York trying to find his big break. Alongside a "how did this come together" cameo, audiences learn everything they need to about Ben. He's self-absorbed, he doesn't really care how his actions affect the women he sleeps with, and he's constantly hunting for a story, even if its existence is entirely warped from the origin point. To Ben, every experience can be boiled down into a podcast, or at least that's the front he puts on when pitching stories to his editor Eloise, played by the always lovely Issa Rae. As Ben receives a midnight call indicating a girl he used to hook up with has been found dead in an oil field, he flies to Texas to attend the funeral due to her family believing they were madly in love. What transpires is a dark comedy about Ben finding the story he has always strived to discover; Yet just like the plot itself, there is far more to Vengeance than meets the eye.
A deeply personal film, Novak pulled a lot of inspiration regarding Ben from the qualities about himself that he disliked. Adam Hendricks, a producer on Vengeance, stated "One of the things that I love about this script is that it's incredibly internal… I think it's incredibly brave as an artist". Considering how downright shallow and narcissistic Ben is at the onset of this film, the vulnerability Novak felt upon crafting the script certainly elevates the material greatly. Mainly, the arc Ben goes along is one that will hopefully inspire others among the audience. Upon meeting the rest of Abilene's family at her funeral, which is a full laugh-out-loud film moment, he speaks with her older brother Ty. Played hilariously by Boyd Holbrook, he comes up with the crackpot idea that Abilene was murdered, and it's time the two of them took justice into their own hands: avenging Texan style. In a seeming moment of providence, Ben has stumbled onto the holy grail of podcasts, which he immediately exploits for his own gain. So at no point in the set-up of this film does Novak set his starring role as that of a decent person.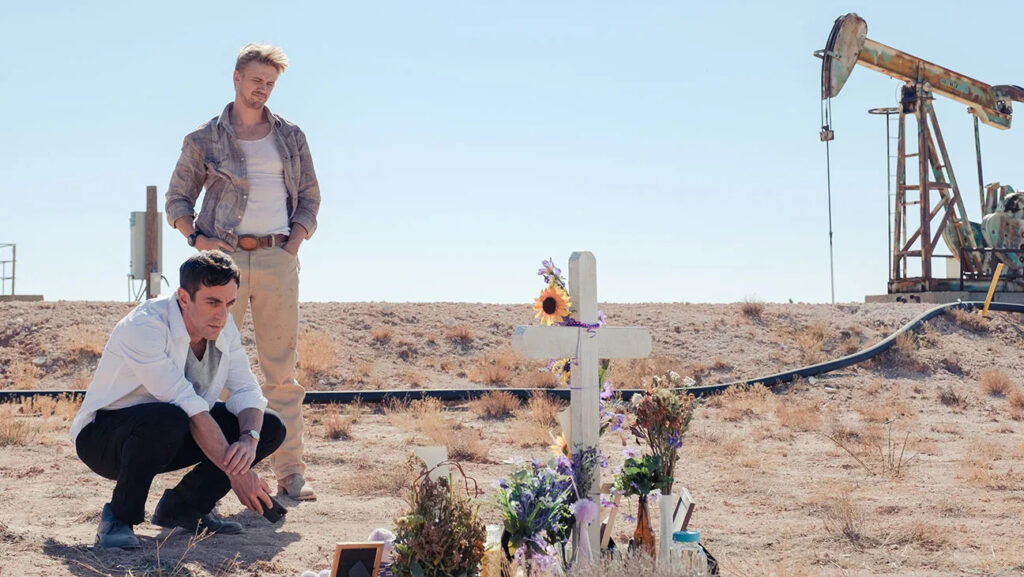 As Novak records any conversation possible with the rest of Abilene's family, it's clear that his highbrow attitude only allows him to look down on those that have taken him in. He sees Kansas City, who is played by one of Hollywood's rising talents Dove Cameron, as a superfan in his eyes. She's desperate to become famous in the film, and it's her outlook on fame that encapsulates the backbone of what Novak is attempting to say within the film. Cameron is great at introducing her character as someone who believes themselves as destined to be famous with no plan, but then flipping around and revealing her inner feelings upon the family getting closer to Ben. As the family and Ben become more engrained in the lives of one another, Ben looks back at his time with Abilene with a mournful regret. It's an emotion that is essential to the film, perhaps most equated to J. Smith Cameron as Abilene's mother.
During his investigations, Ben visits the music producer who Abilene worked with frequently. Played by Ashton Kutcher, it's a role that we've never seen him in before; and it works marvelously. Whenever Kutcher is on screen adorned in a cowboy hat or floral embroidered suit, he delivers these thoughtful, quasi-intellectual statements that just enrapture you into believing anything he says. It's a truly hypnotic performance that pushes Ben into looking at his life in a far different light. Every character in this film, in some way, shifts Ben's world view. With Novak channeling his less than stellar qualities into Ben, it's clear that they aren't from Novak being a bad person, but rather, they are simply symptoms of the society we currently find ourselves in.
As funny as Vengeance can get, it still very much serves as both a thriller and social commentary on modern-day America. It's no secret that a majority of the world loves true crime. Whether it be the latest top podcast series or new Netflix documentary, humans have an obsession with the macabre. Some reasoning or explanation to this fascination has been explored ad nauseum, yet Vengeance is more concerned with the effects it has on us as people rather than why we are so drawn to it. As Ben pursues this story further and further, these victims and the people they leave behind become characters. Real, complex individuals are belittled into characters of a larger story that often borders on exploitative, and in some cases, end up becoming famous, or infamous depending on the situation. The fact that Vengeance is able to deftly handle such a nuanced topic is impressive, and a testament to Novak as a multi-faceted artist. Yet where the film shines is its empathetic view towards society as a whole, and hopefully, its willingness to encourage change. With the divide among us seemingly growing larger by the day, Novak hopes this will inspire some sort of connection. "We see each other from a distance, and our first instinct is often to judge instead of connect. This story is about people being forced to confront and get past that," said Novak. Eloise says, "Tell some story that connects," and it would appear that Novak has found exactly that with Vengeance.
Vengeance celebrated its World Premiere as the Centerpiece Gala at the 2022 Tribeca Film Festival. For more information on the film and festival screenings, head right here. The film is set to be released by Focus Features on July 29th, 2022.