A nearly half billion dollar Netflix deal is an immense amount of pressure to put on the shoulders of anybody, which is precisely the situation Rian Johnson found himself in following the immense success of 2019's Knives Out. Beloved by both critics and audiences alike, demonstrated in part by its immense box office success, the rights to two standalone sequels were quickly picked up by the streaming giant. So, how does somebody take one of the most original theatrically released films in years and improve upon it? In Johnson's case, there were two essential factors for Glass Onion: A Knives Out Mystery: go bigger, and get Detective Benoit Blanc back in front of audiences.
The latter seemed to be a breeze, as Daniel Craig and Johnson openly discussed the idea of just how fun more films with this character would be, long before the original even released. The two were determined to "keep making these in a way that [felt] creatively satisfying" and never repetitive. So off to Greece the duo went, alongside a brand new cast of wildly talented performers, all of whom were keying in to the characteristics of the worst type of person you know: self-proclaimed "disruptors." As the film humorously begins, Blanc finds himself invited to the private island of tech-billionaire Miles Bron (Edward Norton), who invites his closest friends for a yearly trip full of lush extravagance and pats on the back. In the eyes of Bron, his friends are all "disruptors," people who have been lauded as the next big thing in their respective field. From the independent Governor running for Senate (Kathryn Hahn) to the former Twitch streamer/current supplement salesman (Dave Bautista), Bron has friends in a variety of industries. They all want a piece of the Alpha puzzle, his company that seemingly amounts to the tech equivalent of The Cheesecake Factory: sure, they have a massive portfolio to choose from, but do they really excel at anything? The answer is no, but unfortunately, either Bron and his friends are too greedy and misguided to notice, or they just don't care.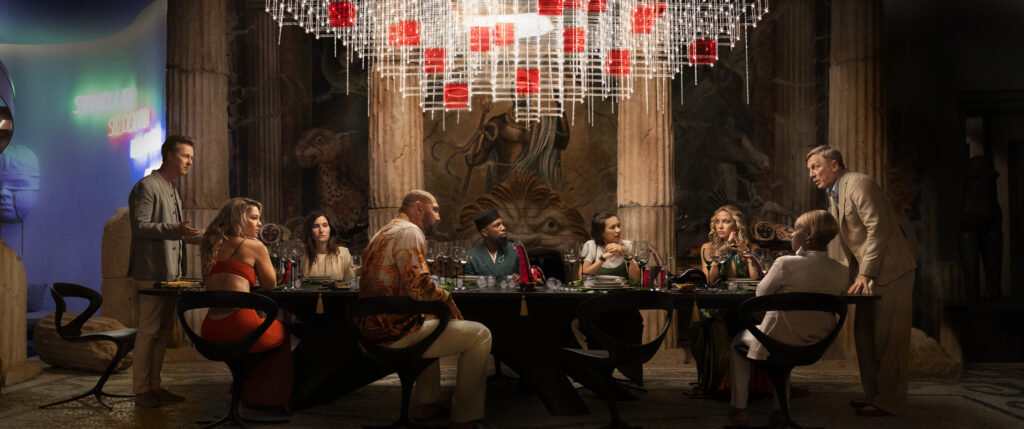 Once all the players have been introduced and the locale has been explored, all that's left is a body and a clue to set it all off. After all, Glass Onion is a whodunnit, and audiences came to see Benoit Blanc do what he does best. Solving crimes in relaxed, but classy, beachwear, while using absurd metaphors is no simple feat, but Craig makes it look effortless. The accent is back, and it's abundantly clear just how much fun he has while doing it. This time around though, he latches onto onions rather than donuts; we can all thank production designer Rick Heinichs for that. This self-described commune feels realistic, as does the massive, quite literal, glass onion that sits atop Bron's faux kingdom. While many in the film see it as a shrine to capitalist success via disruption, some see right through it (literally and metaphorically). Johnson stated that the film is "not a lecture. But hopefully, there is stuff to chew on in there."
While onions don't seem like the greatest food to take a bite out of, they're a dish that most audiences will gladly get behind as the facade of disruption begins to crack. Even after Blanc has disruption "explained" to him, it very clearly means nothing. The detective makes a point to note that "speaking without thought is not the same as speaking truth." In seemingly divine, yet unfortunate, real-world timing, one cannot help but think of Elon Musk and his handling of his recently purchased Twitter. As he publicly fires employees for stating facts he lied about, or simply doesn't care to double check, Johnson intentionally shines a light on self-proclaimed genius. Being a billionaire is not proof of some higher level intellect. In fact, many simply use their fortunes to shield themselves from criticism. At their very core, these disruptors are as hollow as the titular glass onion. Somehow though, Johnson finds a way to ensure the cast doesn't leave a bad taste in the mouth of the viewer.
Norton, who thrives in the performance of the smug Bron, described the relationship of the cast as similar to a "summer repertory theater troupe." The group would stay up late playing Mafia, having dance parties, and learning chess while drinking homemade smoothies. It sounds like a dream come true to be honest, and the bonds made come across clear as day on screen. Take Birdie Jay (Kate Hudson) for example. While certainly portrayed as vapid and insensitive to the world around her, Hudson is a comedic scene-stealer. Her character appears to be operating on another plane of existence, not out of intellect, but through the safety net of her assistant Peg (Jessica Henwick). Through Peg, the audience gets a glimpse of Birdie's perspective, and just how much she is being taken advantage of. Peg is far removed from the ultra-rich we are exposed to, so as audiences latch onto her struggle against being dragged down with a sinking ship, Birdie begins to open up a bit more and become more than purely the fun character. Thanks to Hudson's lovely performance of naiveté, one can't help but hope she gets out of this mess.
There is also Lionel Toussaint (Leslie Odom Jr.), a scientist at Bron's Alpha Cosmos who is put in an acutely familiar situation in his introduction. This film is set in May 2020, just a few months into the worldwide COVID-19 lockdown. As CNN plays on the screen, the all-too familiar and deeply saddening graphics stand out like a sore thumb. So, to hear Lionel openly discuss Bron's refusal to listen to science and fact, instead relying on half-baked ideas that are meant to disrupt (read as rake in profit), it's immensely painful. Furthermore, it's a stark reminder of the times we still find ourselves in, and how many of the elite lived through a very different pandemic than the masses. Time and time again, Johnson demonstrates his ability to deliver poignant social commentary through a comedic lens. Sure, they can be seen as incredibly over the top, but when infamous billionaire Elon Musk decides to launch a car into space for the hell of it, perhaps portraying the 0.1% as adult children isn't too far off.
Glass Onion: A Knives Out Mystery will be released globally on Netflix starting December 23, 2022.