Shiva Baby is, without question, one of the best debut films ever. Emma Seligman's 2020 film is brilliantly funny, wonderfully constructed, and shines just as brightly upon rewatches. So it's no surprise that in the three years since its release, audiences have impatiently been waiting for her follow-up. Whatever she decided to tackle next was bound to cause excitement, and when it was announced her latest would not only reunite her with her cohort, Rachel Sennott, but bring the now bonafide star, Ayo Edebiri, into a leading role, the bar seemed to have been set exponentially higher. So here we are, upon the release of Bottoms, and I'm here to announce that it's insane… in all the best ways imaginable.

Part of what makes Shiva Baby feels so enduring is just how scarily realistic it feels. In 80 minutes, Seligman is able to capture universal anxieties through a hyper-specific scenario. With Bottoms, she has taken on the universal experience of emotions running rampant in high school. Except this time, she has funneled it through a lens that is incredibly heightened. From practically the very first scene, the world the characters of Bottoms inhabit is one that feels completely separated from reality. Once more characters and the setting are fully introduced, this sense of heightened reality is tripled down upon. But even so, the struggles and dilemmas Seligman's characters face are all totally understandable and relatable. Other high school based media that uses a heightened sense of reality only wishes it could be as relatable as a film like this!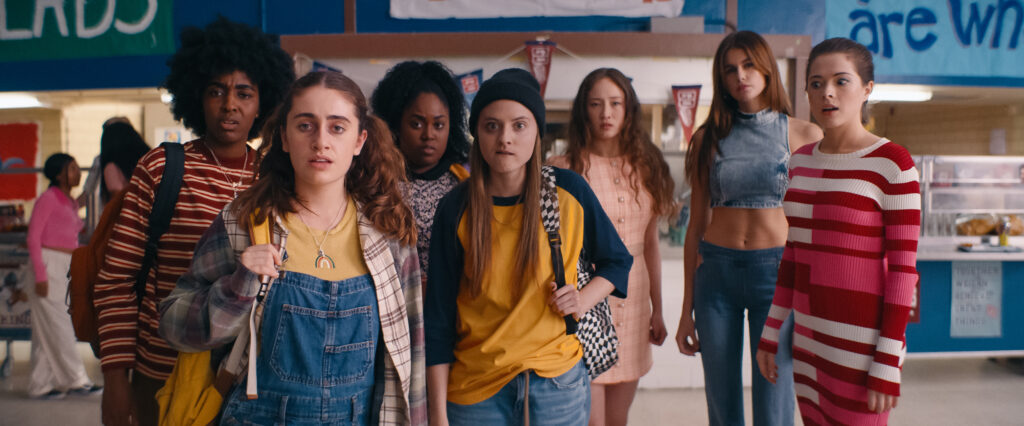 Take, for example, a key scene involving Josie (Edebiri). In such a short time, Edebiri has taken the world of film and television by storm. It's shocking to think that she's only just beginning her career when she feels so instantly captivating and exciting to see with each new role. Still, this film feels like a star-making vehicle for her. Everybody is now blatantly aware that she's a comedic force to be reckoned with. Bottoms is no exception to that claim. But it's in one of the film's more tender moments that Edebiri is able to shine. The choices she's making are so subtle that one can't help but feel the natural emotion built into the very core ideas being presented. As heightened as the comedy is in this film, the real emotions are equally as intense. Bottoms uses its gags and comedy of all kinds not as a crutch, but as a delivery method to address something real.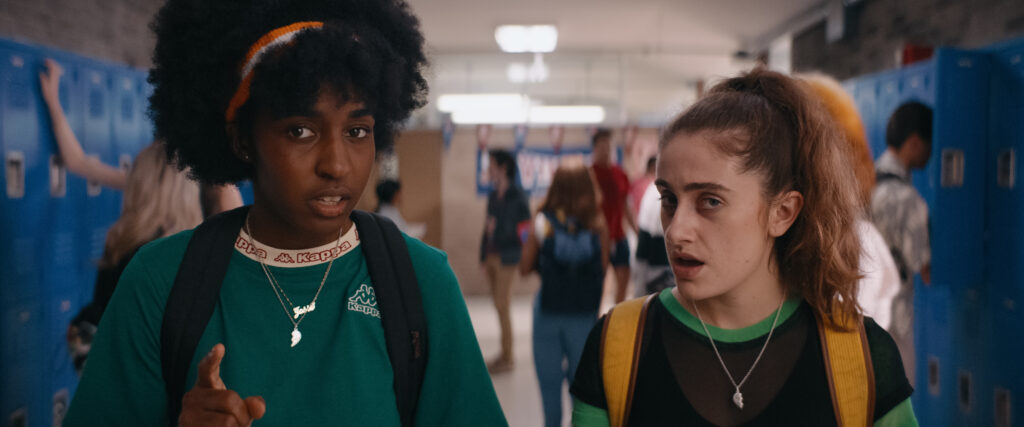 Bottoms is also littered with background gags, both visually and sonically. Throughout the film, the most deranged school announcements imaginable ring through the halls. One in particular exclaims that due to a shortage of funding and textbooks, there will once again be no reading curriculum for the school year. So in a brilliant turn of events, Bottoms solely places its focus on what matters most to high schoolers: their social lives. It's an obvious statement that taking early education seriously is essential. But to try and really emphasize that to a teenager could prove difficult. So instead, Bottoms takes aim at the thoughts floating through the head of anybody in high school. The struggle to socialize, to break out of one's comfort zone, to feel talented and applauded for it, to be one of the "cool kids". Regardless of whether or not some of the things we took seriously in high school are actually important in the long run, in those crucial years, they are. They matter deeply, and to belittle both ourselves and those currently experiencing these worries feels like an exercise in failure. Instead, Seligman focuses solely on these shared experiences, and it works wonders.

As the film comes to an incredibly jarring yet so entertaining close, Bottoms serves as a breath of fresh air to audiences. It's a film that never takes itself too seriously, but isn't afraid to bring several layers of emotion to the forefront. Edebiri and Sennott work very well together, and it's not difficult to imagine seeing more of their antics work in damn near any setting. And excitingly, Seligman proves she can take these really fun, simple-on-the-surface ideas, and turn them into visceral, wildly entertaining films. One can only imagine what she will tackle next with the success of this film. Whichever direction she does decide to go, audiences won't have to worry: we'll surely be laughing regardless.
Orion Pictures will release BOTTOMS in select theaters on August 25th.