For the centennial celebration of Warner Bros. Studio, the greatest superhero of all time soars onto physical media shelves May 9th, in a 5-film box set celebrating the iconic Man of Steel. Packaged beautifully as a set, Warner Bros. has released 4K editions of Superman: The Movie, Superman II, Superman II: The Richard Donner Cut, Superman III, and Superman IV: The Quest for Peace. As a longtime Superman fan, it's almost disgraceful that I have never actually seen these classic films from 1978 to 1987… but that has now changed.
From the moment its larger than life opening credits burst onto the screen and the all-time John Williams score made its way into my ears, I knew Superman: The Movie was going to be a special experience. The reason being? Modern blockbusters, and many superhero blockbusters in particular, neglect exactly what it is this film achieves almost effortlessly. At its very core, this is a film full of spectacle. Yet genuine emotion and a heartfelt devotion to the ideals of Superman himself are never sacrificed in spite of those visuals. A large part of this all being pulled off wonderfully is due to the man in the cape himself, the wonderful Christopher Reeve.
Growing up, I had always heard from my dad and uncle just how much Reeve meant to them as Superman. In their eyes (and words), "He is Superman." And from the moment Reeve bursts onto screen to save his one and only Lois Lane (an always enjoyable Margot Kidder), I could immediately understand just why the fans of Reeve are so steadfast in their belief. But that belief is rooted even deeper in the film, and it's long before Superman ever shows up donning his iconic costume. This film works not just because of how Reeve portrays the hero, but how he, and the script, portray Clark Kent. How Reeve slightly changes his physicality from moment to moment is simply masterful. After wowing Lois as Superman, for a few moments, he loses his hunched shoulders and pitched up voice to the pure charisma and confidence of Superman, only to revert back to bland Clark within seconds. It's an unbroken shot on director Richard Donner's part, and it's incredibly effective. In this film, Donner often utilizes unbroken shots with shifting perspectives, and it's always fascinating. Through them, we see the expansive world Clark looks over, the massive land he grew up surrounded by in Smallville, even the stunningly built underground lair of Lex Luthor (a phenomenally fun Gene Hackman).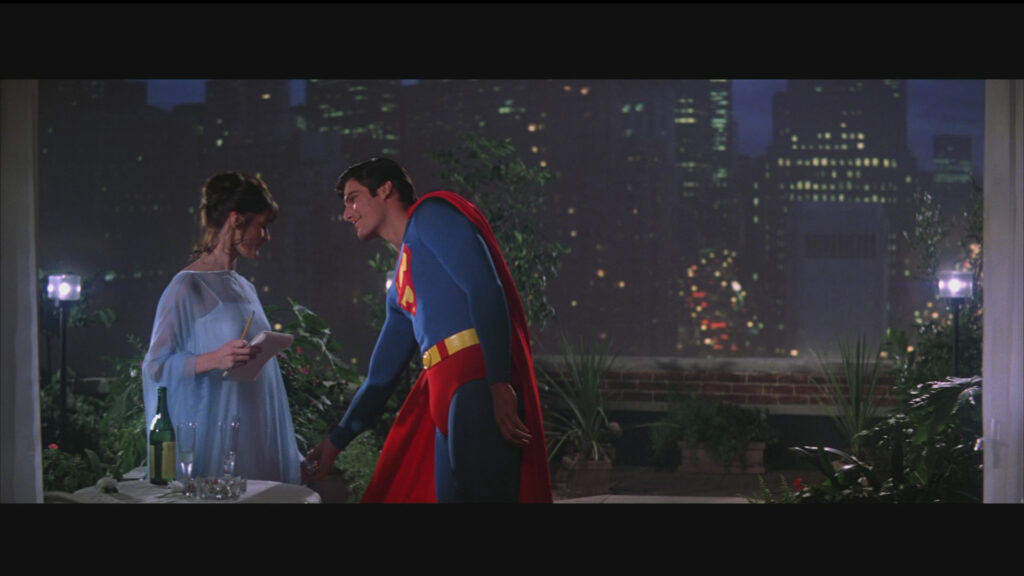 So, by the time nearly half of the film has come and gone, when Superman finally soars in to save the day, the audience cheers; not merely for the heroics on display, but for it being the first time we see the ever-lovable Clark get a much-needed win. He is so effortlessly charming in the role, and is able to play the most idealistic notion of a superhero without it ever feeling overly cheesy. The reason feels simple: because it's a pure message from what feels like earnest filmmaking. The humor present and the picturesque concept of the perfect hero/man. All of it feels like it comes from a bygone era, one where Clark feels pulled out of and placed into the bustling cityscape of Metropolis. He is a fish out of water in every way, and the film works wonders because of it.
As the planet Krypton crumbles, and the Fortress of Solitude strikingly rises from the depths of the ocean, the colors of this home release sparkle and glow in 4K Ultra HD. Superman: The Movie was given a Special Achievement Oscar for Visual Effects at the 51st Academy Awards, and they deserve to be seen in all their glory! Alongside the films themselves, this box set comes with a ton of bonus features, from behind-the-scenes documentaries about the respective films, a handful of classic WB Superman cartoons, plenty of commentaries and featurettes, and even a 50th anniversary special celebrating Superman, the iconic hero. Housed in a beautiful set with individualized cases, it's clear that Warner Bros. is celebrating its centennial as well as one of its most iconic characters ever, properly.
The Superman 1978–1987 5-Film Collection is currently available digitally, and will be available physically on May 9.