If there is anything that can be said for certain about Katherine Propper's debut feature, Lost Soulz, it's that this is a film distinctly made in an era post-Brockhampton. I must clarify: there's no correlation between the music made by the now-defunct band and the group of musicians in the film. Nevertheless, the possibilities presented by one of the most fascinating trajectories in music history are certainly present all throughout this film. Brockhampton went from online chat rooms discussing making music to touring the world and giving their fans three albums over the course of six months. They represented a fundamental shift in how artists could come together in a fully digital age, and become something larger than life. Yet, five years after they released their trilogy of albums, the band has taken an indefinite hiatus, with seemingly no interest in ever reuniting. If the digital age can be praised for its ability to bring together creatives and people all over the world, we also can't forget that it has a darker side. Many can be forced into irrelevance as attention spans become destroyed more and more. Lives can quickly become placed under microscopes. There's obviously immense amounts of pressure when it comes to social media and how we display our daily lives. Lost Soulz, in an incredibly smart manner, seems fascinated with both sides of this dichotomy.
Propper's film has its fair share of dramatic and emotional relevance that may resonate with many audience members. Today in music, specifically hip-hop, young artists are being taken from us at alarming rates. Some people hear about an artist for the first time only after they have passed away. It's a chilling thought to think that Sauve Sidle, who plays the leading Sol, was on a world tour with the late rapper Juice Wrld. Lost Soulz, while having its fair share of fun, does not shy away from the darker elements of not only Sol's story, but the story of young artists all around the world.
Shot throughout Texas, Lost Soulz finds Sol, an up-and-coming rapper, picked up by a local group touring all across the state. As he travels around his own state for the first time, there's an obvious excitement at play, but it almost feels immediately fleeting. Sol wakes up, disoriented and asking where exactly they are. It's beautiful, but nobody really has an answer for
him. They do find a lovely farm which leads to a sweet conversation about putting your all into your respective work. Yet, just as quickly as the group arrives, they must quickly pile back into the van and get back on the road. Propper highlights the amount of freedom this group has, while demonstrating that it always seems to be fleeting.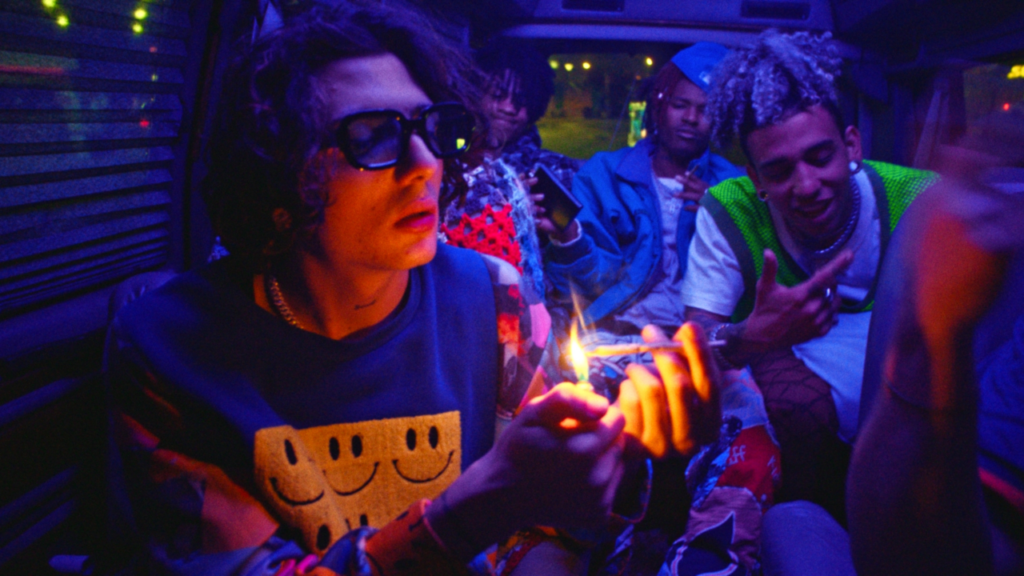 Packed into a small van with six others, one could expect a slew of shenanigans to transpire. As Sol becomes accustomed to the wild world of touring and making music for a living, he begins reflecting on what he left behind. It's in these moments where an audience might find themselves yearning for Sol to have some more agency and drive in his own narrative. As he thinks back to his friend/manager/producer Wesley, one can't help but be reminded of Almost Famous when it comes to these ruminations on life before and after fame.
Through tight close-ups and a free-moving, handheld approach to the film, Propper is able to truly capture the ins and outs of this group as a whole. From freestyling on the road to improvising songs from scratch in the studio, Lost Soulz accurately and powerfully showcases the allure of being a musician. More specifically, it genuinely captures the sense of freedom and fun that comes from creating. But as Propper does not let us forget, pain and messiness exist right alongside those highs, and sometimes, unfortunately, prevail. In those moments of darkness, we can only hope that there is a support system to help shine a light through to the other side.
Lost Soulz celebrated its world premiere at the Tribeca Film Festival. Tickets for screenings and more information on the film can be found right here.